Del Rosario urges Marcos to avoid Duterte path on China
MANILA, Philippines — President Ferdinand Marcos Jr. may be guided by his predecessor's position on the West Philippine Sea, so he would know what not to do with regard to the 2016 arbitral ruling in the Philippines' favor which rejected China's expansive claims over the South China Sea.
Observers on the maritime dispute whom the Inquirer reached for comment assessed Marcos' options, as the country marks today the sixth anniversary of the ruling by the Permanent Court of Arbitration in The Hague, where the Philippines brought its arbitral case against China in 2013.
The case stemmed from a two-month standoff in 2012 at Panatag (Scarborough) Shoal between Philippine Navy ship BRP Gregorio del Pilar and several Chinese fishing vessels. Navy officers who boarded the vessels found illegally poached marine life.
Beijing does not recognize the ruling and has continued its militarization of the South China Sea.
Marcos' predecessor, Rodrigo Duterte, had pursued friendlier ties with Beijing and set aside the ruling. But Chinese vessels on his watch and until today have continued their harassment of Philippine ships in the West Philippine Sea, which forms part of the country's exclusive economic zone (EEZ).
Raise ruling before UN
In a statement, former Foreign Secretary Albert del Rosario urged Marcos to "consistently raise the [arbitral] Award before the United Nations General Assembly and sponsor a UN resolution showing the support of other countries in enforcing the Award."
The ruling, he said, has the support of the international community and benefits the coastal states of the South China Sea and other countries.
Del Rosario, who led the country's arbitration team in 2013, also called for the appointment of an "upright and patriotic person" to head the Department of Energy.
Meanwhile, he said Marcos should further build up the armed forces, support the conduct of joint patrols with security partners, and strengthen security alliances, especially with longtime ally the United States.
Del Rosario said China should compensate Filipinos at least P33.1 billion annually since 2014 when it began reclamation activities and illegal fishing operations, which he said destroyed the breeding grounds of marine life in the Spratlys.
Marcos, who met Chinese Foreign Minister Wang Yi last week, had earlier said he would uphold the ruling and would not allow "a single square millimeter of our maritime coastal rights to be trampled upon," adding that he would talk to China with a "firm voice."
Another member of the arbitration team, retired Supreme Court Associate Justice Antonio Carpio, said he was skeptical that Marcos would assert the ruling, despite his earlier praise for the President's pronouncement to uphold it.
"BBM (Bongbong Marcos) can do a Duterte, pay lip service to the arbitral award without enforcing it," Carpio told the Inquirer.
But he suggested that Marcos should lift the suspension of oil exploration activities in the West Philippine Sea and have the Philippine Navy and Coast Guard escort the contracted survey ships there.
Asserting sovereign rights
He added: "Malaysia and Indonesia, even without an arbitral ruling or Mutual Defense Treaty with the US, asserted their sovereign rights by surveying and drilling in their EEZs despite Chinese threat[s] and the presence of Chinese coast guard vessels. BBM does not have [the] political will to do that."
Duterte suspended unilateral oil exploration activities in April out of concerns that it would upset China. A week before his term ended on June 30, his administration terminated talks on joint energy exploration as sought by Beijing.
Maritime law expert Jay Batongbacal said Marcos should not follow "Duterte's publicly defeatist and recklessly accommodating posture."
'Important resource'
"The Hague ruling is a source of diplomatic strength, it is the basis for marshaling and leveraging the support of many other countries, which can be smartly used and deployed to gain concessions at the negotiating table. He (the President) should treat it as an important resource that can be used judicially and strategically," Batongbacal said in an interview.
Bonnie Glaser, director of the Asia Program at the German Marshall Fund of the United States, said of Duterte's policy: "I think that strategy really didn't deliver. It did not really serve the Philippines' interests. I think the Chinese did not provide perhaps what they had promised."
"I would hope the Marcos administration has learned some lessons from the last five years [of] the Duterte administration regarding [its] strategy of putting the ruling on the shelf and trying to work closely with China," Glaser said at the launching last week of the book, "On Dangerous Ground: America's Century in the South China Sea," by Southeast Asia analyst Gregory Poling.
Regarding talks on oil exploration, she said: "We have a new government in Manila and we will have to see whether that comes up again."

"I'm worried about smaller countries in the region deciding that it's pointless to keep standing up to China and eventually they… [cede] some rights… I'm concerned about countries thinking that if they compromise with China, maybe they will be able to get something that they cannot do today, which is maybe, drill for oil or drill for gas in these areas that are disputed," Glaser said.
—WITH A REPORT FROM INQUIRER RESEARCH 
RELATED STORIES
Del Rosario warns of losing West Philippine Sea
Del Rosario: Duterte chooses China over Filipinos
Bongbong Marcos accepts Chinese gov't invitation to visit China — Palace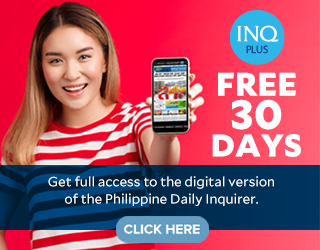 Read Next
Subscribe to INQUIRER PLUS to get access to The Philippine Daily Inquirer & other 70+ titles, share up to 5 gadgets, listen to the news, download as early as 4am & share articles on social media. Call 896 6000.